There is a place for every member of your family at The Harvest
Family Life consist of several age appropriate environments that are carefully designed to minister to every child physically, emotionally and spiritually. We desire to assist, but not replace, the family in developing Godly seeds and establishing a firm foundation.
Family Life Experience Online (FLX)
FLX is designed for students from pre-school to high school and is led by our Family Life leaders and volunteers who present interactive songs and lessons for our children. Check out the latest Family Life Experience Online.
Family Life Online Schedule
Family Life Experience (FLX) Only:
Sundays at 9:00am
Crossover Virtual Fridays:
Fridays at 7:00pm
This environment is designed so that your will grow up believing that:
God MADE me.
God LOVES me.
Jesus wants to be my FRIEND forever.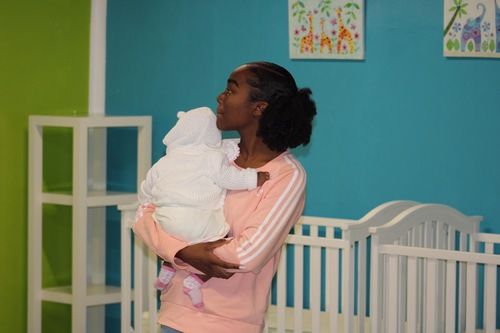 Harvest Adventurers - Nursery
Nursery: New Born - Crawlers
At Harvest Adventurers Nursery we believe in holding, rocking, cuddling Newborns through 18 months children, we use teaching tools such as songs, dancing and storytelling to meet their needs.
Harvest Adventurers - Toddlers
Toddlers: Walkers & Talkers
Harvest Adventurers Toddlers is our weekly environment created for your toddler 18 months to Pre-school. Your child will experience fun learning activities, play time with children their age. We believe in an active, hands-on approach to learning. So, plan on a lot of jumping, singing, dancing, and laughter in every experience.


Harvest Adventurers - Kindergarten
Pre-School Students: Grades K3 - K5
Harvest Adventurers Kindergarten ministers to students from K3 through K5 in a way that meets the physically, emotionally and spiritually needs and teaching tools such as videos, songs, games and stories. We look forward to helping your children learn more about God.
Primary School Students: Grades 1-6
Kid's Electric guides children from grades 1-6 to put their faith in Jesus. We want children to see how God's Word fits into their lives, to learn how to talk to Him, and to build friendships that will last.

Our teachings are built around our Three Basic Truths.
1. Wisdom: I need to make the wise choice.
2. Faith: I can trust God no matter what.
3. Friendship: I should treat others the way I want to be treated.
Jr. High School Students: Grades 7-9
CrossoverJr. is environments created for students in Grades 7-9. Crossover helps students sort out this transitional and often overwhelming time in their lives. With inspirational speakers, heartfelt discussions, and fun games students explore their relationship with Jesus and how that can influence every decision they make.
Sr. High School Students: Grades 10-12
Crossover Seniors is for High School aged students who are not quite kids, but not quite adults either - they are crossing over. This environment helps to launch them into an exciting new era in their lives, with a renewed focus on helping students follow Christ through this new and sometimes difficult period in their lives.